DOMESTIC / COMMERCIAL WINDOW CLEANING SOLUTIONS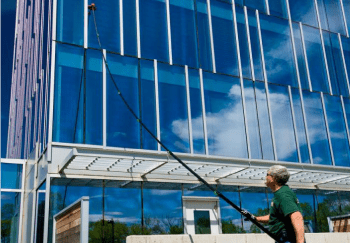 A hundred percent pure water made by the system produces cleaning results that are second to none. The absence of chemical based agents means no sticky residue are afterwards, therefore windows do not soil as quickly, windows stay cleaner longer!
The Health & Safety Legislation does not hamper its use in any way. Ladders and high access equipment can be eliminated, reducing costs whilst ensuring safety. Enjoy the assurance that comes from knowing that some accidents simply can't happen!
The pure water and pole System cleans with greater efficiently than conventional methods. Cleans Windows, Atria, Panelling, Canopies and Fascia to a spot free finish. Operators work from the safety of the ground. Eliminates the need for ladders and high access equipment. Reaches previously inaccessible windows with ease. Environmentally friendly, no detergents or chemicals are used. Easily reaches windows over lawns and flowerbeds. Cleans frames at same time as glass. Pure water consumes algae on atria. We still maintain privacy.